English Below
Ab dem 27. April 2020 haben wir wieder für dich geöffnet!Gestern hat der Bundesrat entschieden, dass unter anderem Tattoo-Studios ab dem 27. April 2020 wieder öffnen dürfen.
Die Lockerung bedingt aber ein angepasstes Schutzkonzept. In Bezug auf Ihre und unsere SicherheitDaher müssen Sie bei der Terminvereinbarung folgende Regeln beachten:
-Desinfizieren Sie Ihre Hände beim Betreten des Tattoo-Studio
-Setzen Sie die mitgelieferte Schutzmaske auf
-Wenn Sie sich krank fühlen oder Fieber haben, verschieben wir Ihren Termin
*Schutzmasken und Desinfektionsmittel stehen Ihnen direkt am Eingang zur Verfügung. Bitte beachten Sie, dass sich jeweils nur ein Kunde im Tattoo-Bereich befindet. Begleitpersonen können Sie leider nicht mitnehmen.
*Wir tragen zusätzliche Schutzkleidung und arbeiten selbstverständlich wie gewohnt nach höchsten Hygienestandards. Wir beraten dich gerne und finden gemeinsam einen Termin für dein individuelles Tattoo
Sonderangebot –  Tattoos für CHF 20- ?
Tattoo Tombola!
Keine Wartezeit! Wir haben Zeit dich zu tätowieren!
Wir freuen uns, Sie wieder im Basel Tattoo & Body Art Studio begrüßen zu dürfen!
Jetzt anrufen: 061 225 9025
We Are Open Again! 11:00 on 27 April 2020!
We opened for you again from April 27, 2020. Yesterday, the Federal Council decided that tattoo studios, among other things, may reopen from April 27, 2020.
In regards to your safety and ours we have adapted a personal protection concept during your time art Basel Tattoo & Body Art Studio. Therefore, you must observe the following rules when making your appointment:
– Disinfect your hands when entering the tattoo studio
– Put on the protective mask provided
– If you feel sick or if you have a fever, we will postpone and reschedule your appointment
*Please note Protective masks and hand disinfectant will be provided for you right at the entrance. Please note that only one customer may be in the tattoo area at a time. Unfortunately, you cannot take friends or family with you.
**We wear additional protective clothing and of course we work as usual according to the highest hygienic standards.
We look forward to welcoming you back to Basel Tattoo & Body Art Studio.
No Waiting! We have time to tattoo you!
We are happy to arrange a consultation for your next tattoo.
Call Now: 061 225 9025
Tattoos For Chf 20- ? Tattoo Raffle!!!
TATTOO TOMBOLA
Unterstützt das Basel Tattoo und Body Art Studio während der Krise!
Support Basel Tattoo & Body Art Studio During The Crisis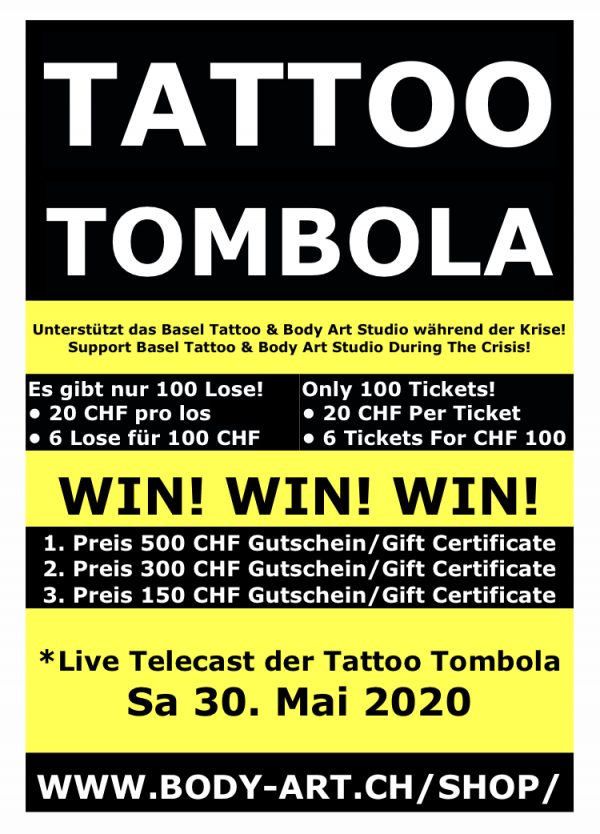 WIN! WIN! WIN!
1. Preis 500 CHF Gutschein/Gift Certificate
2. Preis 300 CHF Gutschein/Gift Certificate
3. Preis 150 CHF Gutschein/Gift Certificate
Es gibt nur 100 Lose!
• 20 CHF pro los
• 6 Lose für 100 CHF
Only 100 Tickets Available!
• 20 CHF Per Ticket
• 6 Tickets For CHF 100
?????????
*Live Telecast of the Tattoo Tombola on Saturday 30 May 2020
*Live Telecast der Tattoo Tombola am Samstag den 30. Mai 2020
Follow this link